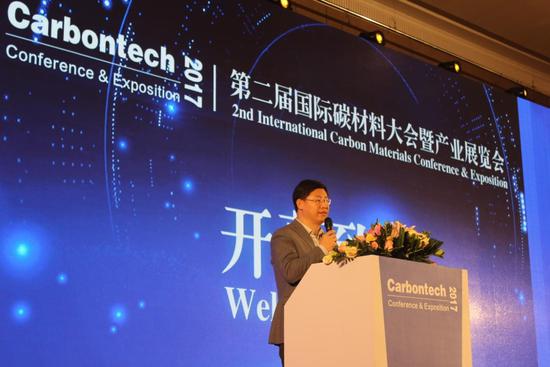 On December 18-19, 2017, the Second International Carbon Materials Conference and Industry Exhibition was held in Beijing Jiuhua International Convention and Exhibition Center.Graphene and carbon nanotubes, as the most dazzling new stars in the field of new material science since the 21st century, are jointly included in the "13th Five-Year" national strategic emerging industry development plan, becoming an important guide to lead the transformation and upgrading of industries. Energy, electronic information, composite materials and biomedicine, etc., the market size can reach trillions of dollars.
The 2017 Second International Carbon Materials Conference and Industry Exhibition invites domestic and foreign academic experts and industry elites to focus on the acquisition of key raw material for carbon materials, technical issues, equipment issues, and application issues, and build high-quality industries, academics, research, and applications Exchange platform to discuss new technologies and new trends in the development of carbon materials at home and abroad, and accelerate the development and innovation of China's carbon material industry. Xue Qunji, academician of the Chinese Academy of Engineering and director of the Department of Chemical Engineering, Metallurgy and Materials Engineering of the Chinese Academy of Engineering, delivered a speech as the chairman of the conference, and mentioned that carbon materials are a commanding height that new material powers need to overcome. Academician Liu Zhongfan, an academician of the Chinese Academy of Sciences, a professor at Peking University and a dean of the Beijing Graphene Research Institute, pointed out in his speech that graphene is not an additive like a golden oil.
Due to its special chemical stability, thermal stability, extremely low surface energy and excellent electrochemical performance, fluorinated carbon material have a wide range of fields such as high specific energy Lithium Battery, solid lubrication, lubricant additives, anti-corrosion and anti-fouling coatings. Application prospects. The specific capacity of fluorinated graphene developed by Chongshan Optoelectronics can easily exceed 800mAh / g, which is 6-12 times higher than traditional zinc-manganese battery. The discharge platform can reach 2.9V, which is close to the theoretical limit of fluorinated carbon material The imported products of Japan and other countries have reached the world's leading level, filling the gap in the field of high-end fluorocarbon electrode material in China.
Once fluorinated graphene, Fluorinated Graphite, Fluorinated Carbon Nanotubes and other fluorinated carbon material produced by Chongshan Optoelectronics were exhibited, they attracted extensive attention from experts and scholars and industry professionals due to their unique properties. The organizing committee of the conference also organized the media to give a special interview to our company, and gave a detailed report on the company's situation, product performance and application fields.
With the company's "unique" fluorinated carbon materials and the company's strong R & D and technical strength, Zhongshan Optoelectronics won the "2017 New Growth Enterprise Award" at this exhibition.
Shandong Zhongshan Photoelectric Materials Co., Ltd
Business Type:Manufacturer
Product Range:Other Chemicals , Organic Intermediate , Catalysts & Chemical Auxiliary Agents
Products/Service:Carbon fluoride , Lithium graphite fluoride button cell battery , Fluorinated pharmaceutical intermediates , Fluorine-containing electronic special gas , Stable isotopes Boron-10 Boron-11 , Fluorine-containing fine chemicals
Certificate:
Company Address:Zichuan new material Park (photoelectric Park), Zibo City, Shandong Province, Zibo, Shandong, China


Previous: New prospect of Shandong Zhongshan Photoelectric Materials Co., Ltd appearing in CIBF2018 Lithium Carbon Fluoride(Li/CFx) batteries
Next: Shandong Zhongshan photoelectric material Co., Ltd. participated in the 2016 China International Graphene Innovation Conference and received extensive attention