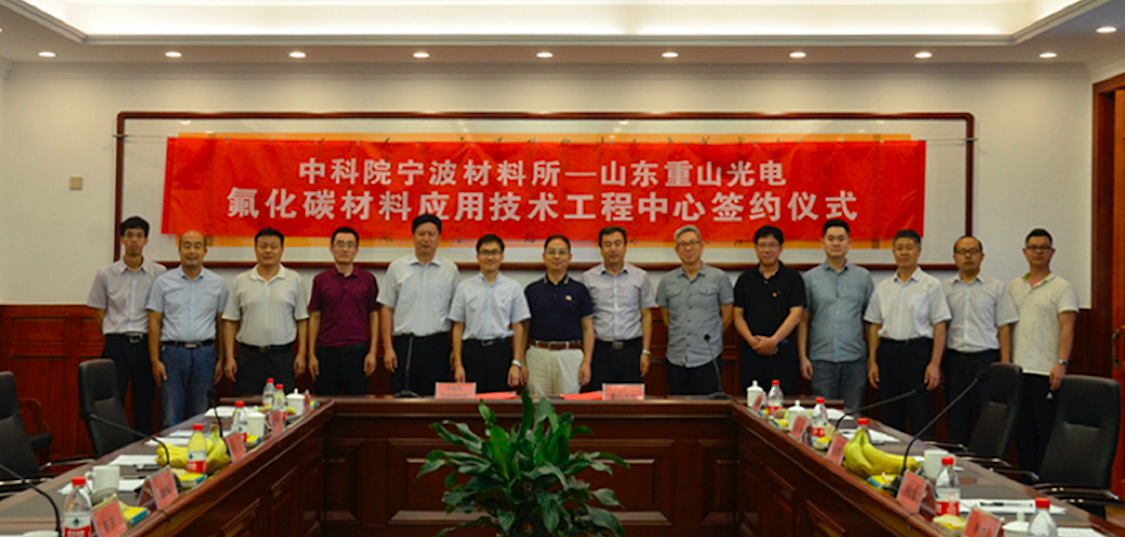 On August 27, 2018, the signing ceremony of ""Carbon Fluoride Materials Application Technology Engineering Center" jointly established by Ningbo Institute of materials technology and engineering, Chinese Academy of Sciences and Shandong Zhongshan Optoelectronic Materials Co., Ltd. was held in the conference center of Shandong Zhongshan group.
Before the signing of the contract, Chairman Li Zhe first introduced the development of Chongqing Optoelectronics.After several years of development, Zhongshan optoelectronics has become the first domestic manufacturer capable of large-scale production of high-quality series of Carbon fluoride material. It has built the world's first large-scale demonstration production line of fluorinated fossil merene, and is the only manufacturer capable of mass production and supply of high-quality fluorinated fossil merene at home and abroad.
Zhongshan optoelectronics and Ningbo Materials Institute of Chinese Academy of Sciences jointly set up the "Carbon Fluoride Materials Application Technology Engineering Center" at the right time. Both parties will carry out relevant application technology and engineering research around the leading product of Party A, such as Carbon Fluoride materials. Both parties will take the opportunity of the establishment of the "Engineering Center" to jointly explore the new mode of cooperation between scientific research institutes and enterprises, promote the construction of innovation system and improve innovation The new chain makes the "Engineering Center" become the R & D and innovation platform of enterprise technology, providing technical support and leading role for the sustainable development of enterprises and technological progress of the industry.
Shandong Zhongshan Photoelectric Materials Co., Ltd
Business Type:Manufacturer
Product Range:Other Chemicals , Organic Intermediate , Catalysts & Chemical Auxiliary Agents
Products/Service:Carbon fluoride , Lithium graphite fluoride button cell battery , Fluorinated pharmaceutical intermediates , Fluorine-containing electronic special gas , Stable isotopes Boron-10 Boron-11 , Fluorine-containing fine chemicals
Certificate:
Company Address:Zichuan new material Park (photoelectric Park), Zibo City, Shandong Province, Zibo, Shandong, China


Previous: Contract signing of Shandong Zhongshan photoelectric materials Co., Ltd. Lithium/Carbon Fluorides Batteries project
Next: New prospect of Shandong Zhongshan Photoelectric Materials Co., Ltd appearing in CIBF2018 Lithium Carbon Fluoride(Li/CFx) batteries