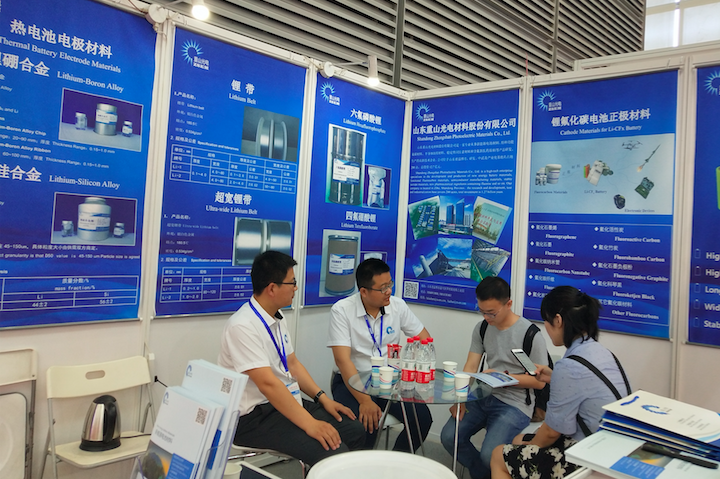 2016 China International Graphene Innovation Conference and 2016 China international advanced carbon material Application Expo were held in Qingdao International Convention and Exhibition Center from September 22 to 24, 2016. Shandong Zhongshan photoelectric materials Co., Ltd. participated in the Innovation Conference with a delegation of 6 people led by Chairman Li Zhe, and participated in the exhibition with a series of advanced special fluorocarbon material such as Fluorinated Graphite, fluorinated fossil graphene and Fluorinated Carbon Nanotubes. Our products won the silver medal of this Expo.
During this meeting, we found that many people from all walks of life showed far more interest in our product than we expected, and the market prospect of fluoro fossil merene material is far broader than we expected. In the face of such a huge potential market, our only choice is to overcome all difficulties and accelerate the industrialization process, build Zhongshan optoelectronics into the world's first fluorine fossil graphene industrialization base and product supplier, seize the market opportunity and open up the industrial application field of graphene materials.
As the first company to enter the pilot test of research and development of fluorofossil graphene material, Zhongshan optoelectronics has completed the pilot test of production technology, applied for three national invention patents, and has fully independent intellectual property rights. We must give full play to our advantages in the starting line and further accelerate the industrialization process of the project. We plan to complete the construction of the first demonstration production line with an annual output of 15 tons of lithium-ion battery grade fluorofossil merene in November 2016 and put it into production in December 2016. Through the operation of demonstration line, optimize production process, improve product quality and reduce production cost. In the future, we can continue to add production lines according to the market demand, and plan to form an annual production scale of 100 tons in 2017. In addition, the company will follow the good situation of vigorously promoting the development of graphene industry in China, and conduct more in-depth research and product promotion in the application field of fluorofossil graphene materials. It is planned to enter the national torch Qingdao graphene and advanced carbon materials characteristic industrial base next year, set up R & D and product promotion experience center, and strengthen cooperation with major universities and research institutions at home and abroad. In this paper, we will continue to study the application of fluorinated graphene series materials in lithium Primary Battery, and expand its application research in lubrication, corrosion protection, semiconductor devices and other fields. It is planned to establish marketing and research centers in Beijing, Shanghai, Shenzhen and other places as well as overseas in the next three to five years, so as to expand our business scope and expand overseas markets.
This time, I participated in the China International Graphene Innovation Conference and product exhibition, and gained a lot. First of all, the huge market demand enables us to understand the broad development prospects of fluorofossil merene materials and the expectation for our products. Secondly, as the first enterprise to display and promote a series of fluorocarbon materials such as fluorocarbon in the international exhibition, we make the industry begin to understand Zhongshan photoelectric, which is conducive to the future market of Zhongshan photoelectric products. Third, through face-to-face communication with peers, we have a deeper understanding of the current situation and future development trend of graphene material industry, which is conducive to our correct and reasonable development plan. Finally, we recognize the urgency of promoting the project, and we will spare no effort to promote the progress of the project, realize the industrial production at the fastest speed, occupy the market first, and meet the urgent needs of the country and Society for the products.
Shandong Zhongshan Photoelectric Materials Co., Ltd
Business Type:Manufacturer
Product Range:Other Chemicals , Organic Intermediate , Catalysts & Chemical Auxiliary Agents
Products/Service:Carbon fluoride , Lithium graphite fluoride button cell battery , Fluorinated pharmaceutical intermediates , Fluorine-containing electronic special gas , Stable isotopes Boron-10 Boron-11 , Fluorine-containing fine chemicals
Certificate:
Company Address:Zichuan new material Park (photoelectric Park), Zibo City, Shandong Province, Zibo, Shandong, China


Previous: Into the world of carbon materials-CarbonTech 2017 2nd International Carbon Material Conference